January 10, 2018
Posted by:

LMKT Newsdesk

Category:

News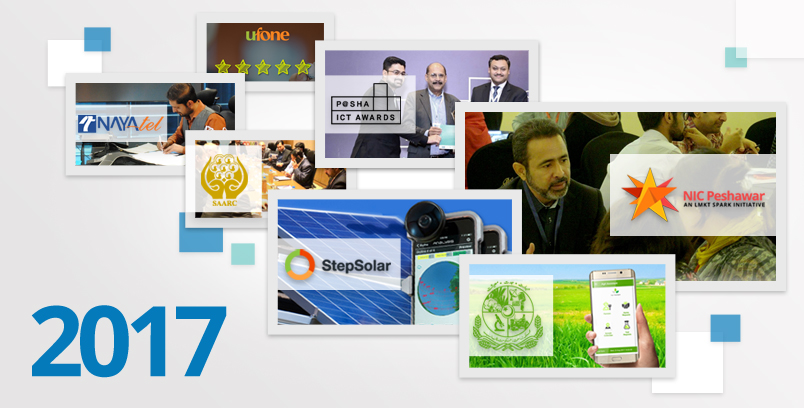 Islamabad, Pakistan – 10/01/2018 – LMKT, a Pakistan-based full-service technology company, which offers scalable IT solutions and services to a broad spectrum of clients, is pleased to issue an in-depth year-end review of its corporate undertakings for 2017, as well as offer an outlook for what the company expects for 2018.
Highlights From 2017
Awarded the contract to set up National Incubation Center in Peshawar.
Expanded our clean technology portfolio by investing in Step Robotics, a global solar energy startup.
Won P@SHA ICT award for Government & Public Sector for e-governance solutions.
Developed the SmartKisan mobile app and web portal for Punjab Government, Department of Agriculture.
Experienced a 200% increase in revenue owing to new contracts and revenue realized from 2016.
2017 was LMKT's year of innovation, the company ventured into many unchartered territories and explored many new and exciting avenues including a move into the media sector, which further diversified its interests. The company also saw a significant increase in business from its core services including integrated security, app development and e-governance resulting in a 200% increase in its revenue stream year-over-year.
LMKT won the contract for National Incubation Center Peshawar and in partnership with Ignite (formerly National ICT R&D Fund) began work to set up a world class incubator in KP. The incubation center, which will be inaugurated in January 2018, is the culmination of LMKT's decade long practice of investing in promising startups.
Also in 2017, the company closed a seed funding round in solar technology company–Step Robotics–delivering on LMKT's commitment to promote promising startups in the clean energy space. Step Robotic's app StepSolar enables solar installers conduct advanced shading analysis, equipment selection, outline financing options and much more.  The app provides solar installers with all the tools they need to successfully grow their businesses.
At the 14th Annual P@SHA ICT Awards, LMKT's industry-leading e-governance and office automation product, VO8, won best-in-category award for Government & Public Sector. The company was also shortlisted in three other categories and it also clinched the runners-up title for its product MapView—a module of V-Secur®—in the Security Applications' category. LMKT's e-government initiatives were also recognized at a regional conference by SAARC member countries.
In 2016, LMKT signed an agreement with the Government of Punjab, Department of Agriculture, to use agri-tech to improve farming practices in the Country. In 2017, work on the project led to the launch of an Android application, AgriAssistant. The app will help the Department of Agriculture's field officers in the collection of soil samples and mark farm boundaries specific to each farmer on the field maps. LMKT also launched a real-time, location-based weather information for farmers as a part of the SmartKisan web portal. Together, these tools have been designed with a view to improve farmer wellbeing and empowering them with the latest digital technologies. These initiatives are part of the Agriculture Department's larger goal of registering and mapping over 4 million farmers across 36 districts of Punjab.
Through 2017, the company, which is one of the pioneers of e-governance and process automation in Pakistan, continued to advocate for greater e-governance in the country and the region. According to LMKT's co-founder and CEO, Atif Khan, "There is a consensus among all SAARC members that collaboration is truly the way forward not only for the region's prosperity but also for creating a global impact." LMKT is keen on supporting the Government in its mission to enhance governance and citizen engagement through the use of technology.
Outlook for 2018
LMKT is expected to continue its momentum in e-governance, agri-tech and clean energy technologies. In 2018, the revenue stream for the business as a whole is expected to strengthen further as many 2017 ventures mature and start yielding better results. In the New Year, the company will utilize its prowess in machine learning and AI to enter the home security space by launching smart security solutions for homes. Also in 2018, Step Robotics' Step Solar app will be launched globally and National Incubation Center Peshawar will become fully operational. NIC Peshawar is expected to recruit its first cohort of startups in January 2018.